Our Story
Grace N Grit Designs was born January of 2019 when Katie was 25 weeks pregnant with Dawson Kaye "Itty Bitty" and Neil was 18 mos old. Prior to, she was a store manager at a boutique/western store in College Station.
Due to the circumstances, her and her children were moved to San Angelo to be closer to family. Two weeks into the bed rest orders, Katie became stir crazy and started making jewelry. And the rest is history! After Dawson Kaye was born, Grace N Grit grew into so much more!
Now, Katie is happily married to an amazing man that works along side her when he can and always has her 3 babies in tow. They love helping at the "mommy's shop"!
Grace N Grit is a lifestyle. It is a choice to walk in grace and extend it to others. It is also the grit to pick yourself up as well as those around you and move forward. We strive for our products to reflect just that! Elegance and grace with a little punch of sass, showcasing the inner beauty of a courageous person!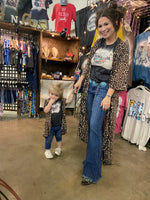 Family Owned & Operated

Handmade Products based out of San Angelo, TX
Grace N Grit Designs

Handmade Products based out of San Angelo, Tx
Family Owned & Operated
Handmade Products based out of San Angelo, TX
Grace N Grit Designs
Handmade Products based out of San Angelo, Tx